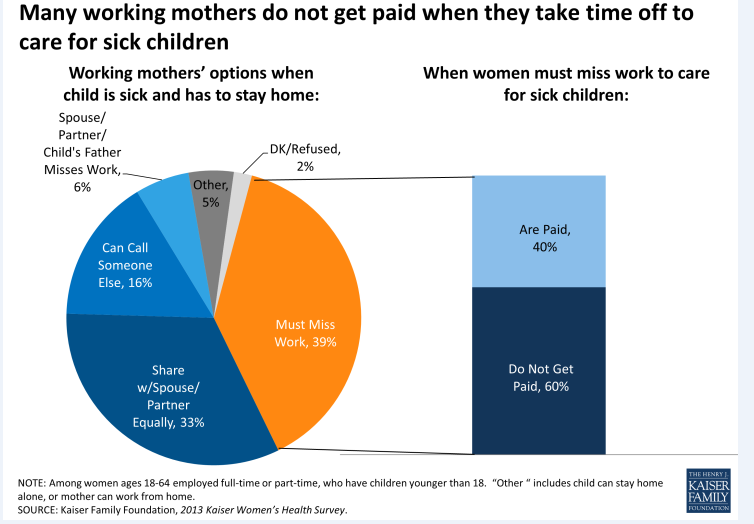 Women, Work and Family Health
Posted: June 28, 2016
Family and Medical Leave Act
Households with both working parents know the juggling it takes to balance when caring for a child. Caring for that child when he or she is not feeling well comes with an economic cost. Based on a Kaiser study, Women, Work, and Family Health that cost is higher for mothers.
39% of working mothers must take time off and stay home when their children are sick as opposed to 6% for men. Of those working mothers only 40% are compensated, see chart.
Many employers offer paid-time off (PTO). However, only 6 in 10 women work for an employer that provides PTO benefits as well as other "fringe benefits" like Health Insurance.
There are public policy protections in the Family and Medical Leave Act (FMLA) that give eligible employees up to 12 weeks of unpaid leave to care for seriously ill family members and job protection when an employee returns from family or medical leave. This has been in place for more than 20 years. According to the Kaiser Foundation, "as a result of the law's protections, millions of workers have benefited from job security while caring for loved ones. Despite the important safeguards the law provides, many working women simply cannot afford to take extended leave without pay."