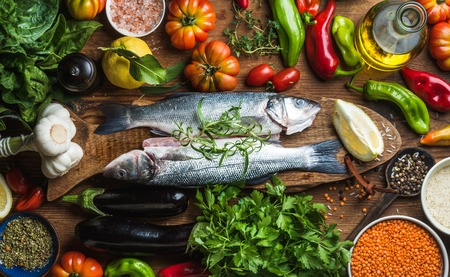 Eat Your Way to a Healthy Heart
Posted: March 21, 2017
Recently, personal trainer to the stars and Biggest Loser celebrity, Bob Harper, had a massive heart attack. The news shocked the world and it got me thinking…WOW; this really can happen to anyone no matter how fit and healthy you are! Kind of scary and it also got me thinking about the way we eat and what we eat.
I inquire about different diets all the time. This news prompted me to dig a little deeper into the Mediterranean Diet which has been around for centuries. It represents as much a culture as it does a cuisine. And, it's not really about what to avoid or is "not allowed". It's about what foods people rely on based on the season; keeping in mind that you don't have to break the bank to eat this way.
The main components of the Mediterranean Diet are the following:
Fish
Fresh produce
Healthy fats (Extra Virgin Olive Oil, avocado, nut butters, nuts)
WHOLE grains
LEAN dairy
SOME wine (the best part, in my opinion)
Reports have indicated that incorporating this type of diet into everyday life can prolong life especially in heart patients. "Adherence to the Mediterranean diet reduces the risk of overall mortality, not only in the general population — which is already known — but in patients who already suffered a heart attack," said study researcher Dr. Giovanni de Gaetano. He is head of the department of epidemiology and prevention at the I.R.C.C.S. Neuromed Institute in Pozzilli, Italy. "All-cause death was significantly reduced both in the people following the medium-level [Mediterranean diet], but especially in people who followed faithfully the Mediterranean diet," de Gaetano added. "The reduction in this group was about 37 percent." The study included nearly 1,200 patients in Italy. During a median follow-up of just over seven years, 208 died.
Professor Giovanni de Gaetano, found that those who follow a Mediterranean type of meal pattern were a third less likely to die early, compared with those who consumed a more Western diet, which we know as being based on a foundation of highly processed foods, steaks the size of plates and sugary soft drinks as the beverages of choice.
Here are 5 easy ways to make your diet more Mediterranean-like on a daily basis:
1.Eat WHOLE grains such as antient grains like quinoa, chi, amaranth, bulgar and buckwheat. You can mix one or more of these with nuts and dried fruit and eat as a hot cereal for breakfast.
2.GO vegetarian and/or eat fish at least once a week. Fatty fish like salmon, sardines and tuna are all good sources of heart healthy omega 3 fatty acids. Or veg out and let grains, beans, veggies and fruits take up your whole plate!
3.DO EAT GOOD FATS! Don't fear fats such as avocado, nuts and seeds and cook with deep, rich olive oils. Try smashed avocado on whole grain toast and eat with eggs for breakfast…it will change your life! Add walnuts to your salad or add avocado to your turkey sandwich instead of mayo. Just remember, these fats are high in calories so moderation is key.
4.EAT LOW or NO FAT Dairy. Enjoy cheese, milk, Greek yogurt at breakfast, lunch or dinner…any time of day. Add fresh fruit and nuts to your Greek yogurt or make a smoothie with frozen berries.
5.LAST but not least, drink WINE! In moderation, of course. And when you're not drinking wine, make water your beverage of choice.
Cheers y'all and happy, healthy eating! Remember, small changes reap big rewards.
https://consumer.healthday.com/vitamins-and-nutrition-information-27/mediterranean-diet-985/mediterranean-diet-shows-its-protective-powers-in-heart-patients-714328.html
http://www.heart.org/HEARTORG/HealthyLiving/HealthyEating/Mediterranean-Diet_UCM_306004_Article.jsp#.WMrTdPnyt7g